BLADDER TYPE SURGE VESSEL
Designed for environments where an air compressor's power, noise and maintenance requirements are simply unacceptable. Rugged and proven butyl, Nitrile, Vinyl Polyurethane bladders along with epoxy coated carbon steel tanks provide the long life and dependable performance needed in diverse applications such as water & wastewater, sewage, petrochemical, chemical processing, mining, fire protection and more.
Our Blacoh Surge Shield product line includes standardized vessels in the 25-150 gallon range, and compressor style surge vessels are also available.
FEATURES & SPECIFICATIONS:
Available in vertical or horizontal designs.
Bladder is fixed to the outlet/inlet connection orifice located on the bottom or the side of the vessel.
The bladder is designed so it can expand to the full size of the vessel. This allows for greater drawdown volumes, and less stress on the bladder.
The air is trapped in the space between the outside of the bladder and the wall of the vessel. Therefore the liquid is not in contact with the steel walls of the vessel.
Size Range: 25 to 40,000 gallons
Service Pressures Range: 50 to 1160 PSI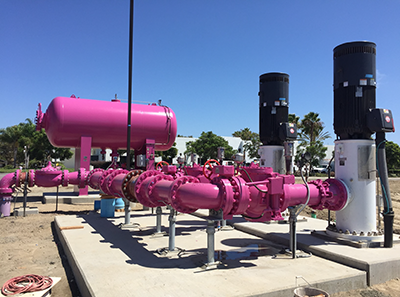 For specification sheets or more info